Get Your Free Instant Estimate
Call us today for a fast and free estimate, upfront pricing, affordable rates, and reliable local and long distance moving services in Central New York.
Moving company Syracuse, NY
Syracuse Moving Company delivers dependable and affordable moving services to and from the Central New York region. We offer local, long-distance, residential, and commercial moving solutions.
Whether you're moving from an apartment, 4-bedroom home, or corporate office space, we can assist you today with licensed, insured, and trusted moving services. Our movers are intensely trained and experienced in safe packing, loading and delivery of furniture, appliances, pianos, beds, computer equipment and hardware, televisions, and all household and office items.
Call us today at (315) 860-0772 for a free instant moving estimate. We provide upfront pricing, low-cost rates, and a detailed plan for your entire move. We look forward to helping you!
Why we're the best Syracuse movers
There are more than 7 reasons to choose us for help with your move, but we got tired of typing … so here you go:
We do it all
We offer a full-range of moving services – packing, loading, delivery, and more. While most of our moving jobs involve houses and apartments, we're also experts in commercial and office space moving for our local businesses. We're local movers, but we're always ready to go long-distance throughout the northeast, southeast, and beyond. You'll never have to call another moving company again.
We're affordable
The big franchise movers will charge you an arm and a leg, and maybe an ear. We can do the same work for a fraction of the cost. We offer some of the most affordable moving rates in the Syracuse, NY area. Keep money in your wallet.
We work on your schedule
Tell us when YOU want to move and we'll do our very best to accommodate your needs. We also work efficiently to finish your move in a reasonable time and save you money. We know you are busy and your days are hectic during a move. We'll bring you a smooth move.
We won't break your stuff
We know that this is sort of expected of movers, but it doesn't always happen that way. We take every precaution, however, to protect your belongings and deliver them in one piece. That includes careful packing methods, strategic loading, safe driving, and detailed delivery.
We're responsive
We'll return all your calls and emails and always keep you in the loop. We like to work with our customers to develop custom plans for their move. We'll communicate with you regularly leading up to moving day and throughout the move.
We're better than the rest
We don't like to brag, but we're proud of what we do. We like to say we're the best moving company in Syracuse, but our work and customer satisfaction speaks for itself. Other moving companies in Central NY might have decent enough reviews on Google, Yelp, Manta, or Angie's List, but none equal the true value of Syracuse Moving Company.
Full-service local and long-distance moving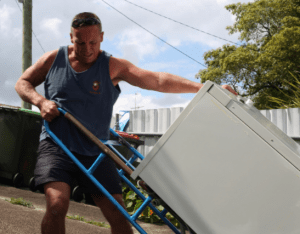 Need help with your entire move – from start to finish? Our movers are always up for the challenge. The bigger the move, the better.
Full-service moving is a specialty of ours, and a popular choice for our busy customers who have many other responsibilities to tend to during a move.
We handle each of the following when you choose us for full-service moving help:
Planning every detail of the move
Packing and unpacking your possessions
Loading and unloading from our moving truck
Delivery and set up of your big items (bedroom sets, refrigerators, stoves, couches, chairs, tables, and more)
Relax. We have your move covered. You won't have to lift a finger or strain your back, arms and legs trying to move on your own.
Best of all, we'll make sure your possessions are moved carefully and delivered in the same condition that you left them with us.
Whether you're moving locally in Syracuse or upstate NY or long-distance, choose our complete A-Z moving services.
Other moving service options near you in Central New York & Onondaga County
Don't need full-service moving? No problem. We can help you out when you need us most. Plus, only taking care of specific parts of your move will save you money.
Where do you need assistance? Choose Syracuse Moving Company for one or all of the following services:
Packing and unpacking
We use packing paper, padding and more to make sure your most treasured possessions are packed safely and won't break in transit or while loading or unloading. We also can unpack your items and place them where you desire in your new dwelling.
Loading and unloading
We can load and unload all or some of your items. We have our own reliable moving trucks, but we're happy to load your U-Haul, Budge, or Penske rental truck , PODS container, or any other vehicle for transport. We strategically load boxes and items in moving trucks so they don't move, tip, or break while on the road.
Delivery
We move your items where you want them in your new home, apartment or office. We can place your home appliances, couch, bed, pool table, safe, piano, television set, and more. Just tell us where, and we'll deliver.
Moving boxes, tape and equipment
Don't worry about it. We have all the supplies necessary to make your move go as smoothly as possible. We always have moving boxes, tape, packing paper, padding and more in stock. We also have rubber-wheeled dollies, rope, and bungee cords for safe moving.
Now offering full-service storage!
Pinning down excellent storage can be a big inconvenience when you're relocating. Wouldn't it be much better to depend upon ONE business that can help you move and keep your belongings?
Thanks to our amazing new facility in Syracuse, we can help! Our professionals inventory and load all your possessions within storage vaults, plus keep all of your belongings tidy and secure. We proudly provide both short and long-term storage for our customers.
Our storage facility is centrally located in the CNY area, climate-controlled, easy to access, under 24-hour surveillance, and economical. Get assistance as soon as possible with storing household furniture, kitchen appliances, electronics, yard equipment, gym equipment, and a lot more.
Piano moving
Home appliances (refrigerators, stoves, ovens, washers, dryers, microwaves)
Computer hardware and televisions
Why you might need our help?
Why turn to a professional moving company for assistance?
Moving on your own can be a major hassle. It can be frustrating, exhausting, and painful. Yes painful. Have you ever tried lifting your fridge on your own? It's heavy.
Leave the heavy lifting to the pros. If any of the following applies to you, call Syracuse moving company for help that's cheap in terms of money but very valuable in terms of the awesome service we provide:
You're way too lazy to do it on your own.
You'd rather play golf, go to the beach, or do something you enjoy.
You're way too old to be lifting things heavier than 50 pounds.
Your back, arms, legs, hips or neck ache.
You have young children who need constant attention.
You don't want to guilt friends and family into helping.
You don't have a six-pack of strong men at your disposable.
You just don't feel like it.
Our moving service area in Central NY
We provide local and long-distance moving assistance to and from Syracuse, Cicero, Clay, Baldwinsville, Liverpool, Jamesville, Fayetteville, Manlius, North Syracuse, East Syracuse, DeWitt, Marcellus, Camillus, Skaneateles, Onondaga, Auburn, Ithaca, Oswego, Rome, Cortland, Fulton, Utica, and other towns and communities throughout the Central New York Region. We also work with movers in Aurora, CO.
Call us today at 315-860-0772 for a free and accurate moving quote, and expert service that is affordable.